Procedures performed in-office
Achieving outcomes of naturally beautiful teeth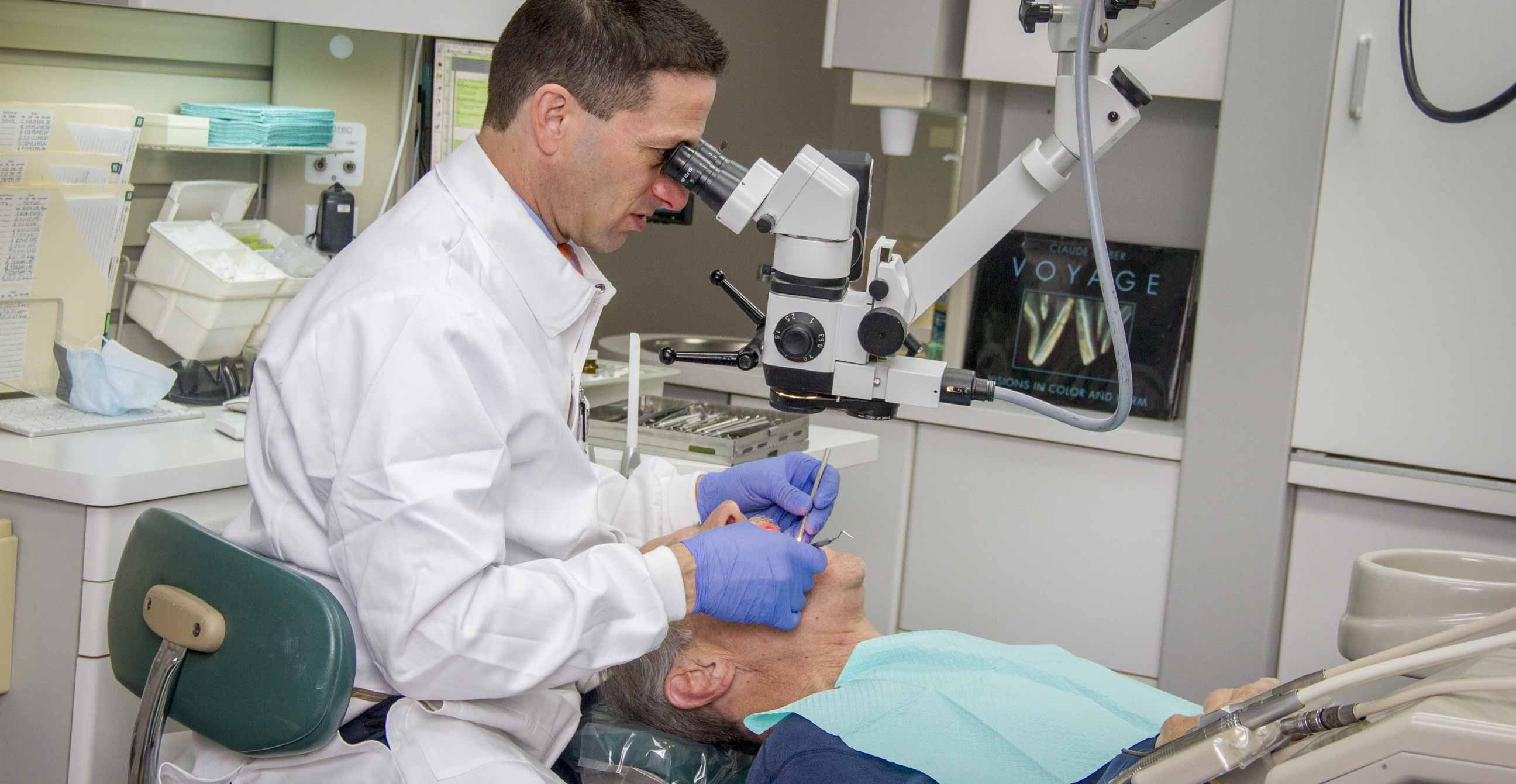 If you're not sure which area above will give information about your problem, use the following guide.
For information on:
Light to Moderate Stains, go to the section on Bleaching or Microabrasion
Moderate to Severe Stains, go to the section on Bleaching, Microabrasion, Bonding, or Porcelain Laminates
Spacing, Misaligned teeth, and Fractured teeth, go to the section on Bonding or Porcelain Laminates
Replacing Silver Fillings (Amalgam), go to the section on Porcelain Inlays/Onlays
Replacing Ugly Crowns, go to the section on Crowns
Replacing Missing Teeth, go to the section on Tooth Replacements
Bleaching
Lighten for Aging 〉
Fluorosis and Decalcification 〉
Tetracycline Stained 〉
Darkness from Root Canal 〉
Bleaching is a highly effective, conservative procedure which utilizes a strong oxidizing agent to lighten teeth. It is frequently used in cases where mild to moderate staining is present and tends to be most effective in teeth in a yellow or yellow-orange color range. It is effective in approximately 75% of selected cases. Bleaching can be done as either an in-office, at-home or a combination therapy. The compounds are either hydrogen peroxide, carbamide peroxide, or sodium perborate solutions and range in concentrations.
Bleaching will only lighten natural tooth structure and will not change the color of porcelain or composite resin restorations. This fact can be either good or bad depending upon the situation. If you want your teeth to be lighter, but have color matched restorations, then you must be prepared to replace them after bleaching is completed. If on the other hand, you have restorations which are lighter than your natural teeth, bleaching can be an inexpensive alternative to replacing the restorations and frequently can make the crowns look much better. If you are planning on having any work done soon, make sure you tell your dentist you would like your teeth to be lightened PRIOR to restoring the teeth.
Many times bleaching is used in combination with other cosmetic techniques like microabrasion, bonding, or porcelain laminates to achieve an ideal result.
Bonding
Cosmetic Bonding 〉
Replacing Bonding 〉
Bonding involves the application of a plastic material, Composite Resin, to natural tooth. The reason it is called bonding is due to the chemical and micromechanical "Bond" it makes with the tooth structure. In fact the bonding materials today bond as tenaciously to tooth (both enamel and dentin) as tooth does to itself. Initially bonding to enamel was wonderful but bonding to dentin was weak With the discovery of "wet or moist bonding" by Dr. Kanca in the late 1980's and early 1990's, dentin bonding has become the norm. In fact it has created the entire "minimally invasive dentistry" field, where the theory of the less tooth removed the better, as long as the decayed tooth structure is removed.
Bonding is a general term which can be used to describe bonding composite resin, porcelain laminates, porcelain inlays/onlays, precious and non-precious metal alloys and amalgam restorations today. Although in the past bonding usually referred to composite resin bonding. This can create some confusion so be careful when using the term bonding and make sure you and your dentist are on the same wavelength. Depending upon the materials which are bonded, the final result can be a tooth which is as strong and esthetic as the original unrestored tooth.
Contouring
Contouring 〉
Cosmetic Contouring is the technical term used to describe the reshaping of natural teeth for cosmetic purposes. Minor reshaping of front teeth can have a dramatic effect on the appearance of a person's smile. Making teeth follow the curvatures of the lips symmetrically can change an awkward looking smile into a pleasant one without compromising the integrity of the teeth or adding any artificial material which would need replacing in the future.
In modern Dentistry cosmetic contouring is used to improve the appearance of the teeth by creating the illusion of uniformity and alignment. When performed successfully, it is by far the preferred method of treatment since it requires no anesthesia, is relatively inexpensive, takes little time, and leaves you with no artificial material on your teeth to wear out.
If you have slightly misshapen or crowded teeth, cosmetic contouring may provide an excellent solution to your problem. It is usually easy to correct long front teeth/"rodent teeth" or long canine/"Dracula" teeth in one visit.
Several factors should be considered before pursuing cosmetic contouring. First, your dentist should evaluate your natural teeth and the effect that contouring may have on them. The bite must be correct for the health and proper function of the teeth to be maintained. Second, the thickness of enamel must be determined. The removal of too much enamel can result in temperature sensitivity as well as discoloration if the dentin layer is exposed. Occasionally there is a tradeoff between maximum function and maximum esthetics which requires a compromise of the esthetic component. If this is unacceptable, other treatment options such as Bonding, Porcelain Laminates, or Crowns may need to be considered.
Crowns
Porcelain-to-Metal 〉
Porcelain Margins / Butt Crowns 〉
All Porcelain 〉
Crowning or Capping a tooth is a longer lasting, although less conservative, treatment alternative that requires reducing the outer 1.5-2 millimeters of tooth in all dimensions in order to make space for a laboratory created tooth replacement. Although we would always prefer to save as much tooth structure as possible, it is not always feasible nor preferable for all situations. More severe corrections can be created by appropriate use of crowns. Despite their drawbacks, crowns can be beautifully sculpted works of art which can not be detected by even a trained eye.
There are many types of crowns on the market today, each with its pros and cons. Ask your dentist which is most appropriate for your situation. In this section you will see examples of porcelain fused to metal crowns, porcelain fused to metal crowns with porcelain margins and all ceramic crowns. Each has its place in cosmetic dentistry.
Porcelain fused to metal crowns (PFMCs) are the "gold standard" by which all crowns are measured as far as fit, strength and durability. They have been used for many years and have an excellent track record. The one problem with PFMCs has been their inability to esthetically emulate natural teeth. The main reason for this is the inherent nature of the materials. Teeth get their esthetics from their reflected as well as transmitted light through the multiple layers which comprise their structure. The blood supply in the center, the dentin layer, and the enamel matrix provide a dazzling array of optical effects which are impossible to replicate exactly with porcelain fused to metal crowns. The main reason for this is that the metal blocks out all light transmission through it's path and all light is then reflected only. There also needs to be an opaque layer of porcelain applied over the metal substructure in order to mask out the gray colored metals most commonly used. Frequently this opaque layer is visible in the final crown, unless enough tooth has been removed in order to create thick enough overlying porcelain to mask it too.
We have all seen bad PFM crowns. They stand out like a sore spot in a smile. They look too bright, frequently are misshapen, or have a dark line at the gumline. These crowns can easily be remade and with the knowledge and expertise available today, the new crowns can look as good as natural teeth. You will see some examples in the PFMC section.
Because of the need for esthetic crowns, many techniques have been developed to deal with certain situations. The second section, PFMCs with porcelain butt margins are a slight modification whereby the metal edge is removed from the metal substructure and it is replaced with a special kind of porcelain (shoulder porcelain), which extends down to the junction of the tooth and crown (the margin). In the past this technique was unavailable because porcelains shrank too much during the firing cycle, leaving the margins open. When a margin does not fit the underlying tooth intimately, the tooth is susceptible to caries and the crown will ultimately fail and need to be replaced. Shoulder porcelains were specially created, low shrinking ceramics which eliminate this problem when used properly. They give us the ability to create highly esthetic crowns, without dark margins, while providing the strength of porcelain fused to metal crowns.
All porcelain crowns have been around in many forms for years and years. They were commonly called Porcelain Jacket Crowns or PJCs. In Hollywood they were and are a common occurrence. When done well, they are hard to distinguish from natural teeth. Esthetically they have no equal. Unfortunately, they had a tendency to fracture due to crack propagation throughout the ceramic material as they were used. This problem had led us to develop newer ceramic systems which are either pressed into a mold in a molten state or Slip cast. The newest Pressed Ceramic systems are called Empress or Optimal. They have a high Leucite content, which prevents the microcracks from propagating. They are highly esthetic and have a good track record so far in front teeth They are not regularly recommended for back teeth since they do not seem to be able to withstand the biting forces applied in this area.. They gain much of their strength by being BONDED to the underlying tooth using composite resin bonding systems.
The slip cast systems were developed by a company called VITA, and are called In-Ceram. They have developed two systems called In-Ceram Alumina and In-Ceram Spinnell. The Alumina variant is a magnesium, aluminum infiltrated glass and creates a crown which is strong enough to be used in back (posterior) teeth. The Spinnell version is more translucent, but is also weaker. It is ideal for front teeth as well as Inlays, where the tooth provides the strength.
Depending upon the esthetic result required, the dentist and ceramist must determine which of the systems is right for your particular needs. Each one has pros and cons, just like each of the techniques described in this website. It is only by understanding the needs of the patient together with understanding the materials' strengths and limitations, that a great final result can be obtained.
Soft Tissue Health
Recession 〉
Gum Height 〉
This section deals with the two main esthetic problems associated with the gingiva (gums). The first problem is called recession. This is when the gums which cover the root of a tooth begin to no longer cover the root, or recede. Recession has many causes, the main ones being 1)overly aggressive brushing, especially with a hard or medium brush, 2)prominent root with thin overlying bone, 3)strong muscle attachment, 4)very thin, delicate tissue which can easily be traumatized, and 5)Occlusal trauma. This last reason is still debated in the literature. Recession is usually treated when there is either an esthetic issue, a temperature sensitivity problem, when the root is susceptible to root caries, or when the tissue if just too thin to provide a good zone of attached gingiva (usually with a strong muscle attachment).
The second problem discussed here is general loss of tissue height secondary to tooth loss. The gums are lost once a tooth is lost and when a fixed tooth replacement is placed there is frequently an esthetic. This is usually seen as a black triangle between the teeth if the gums are not recreated prior to restoration.
Both of these problems can be treated with periodontal surgical procedures, also called periodontal plastic surgery. For recession there are at three main surgical approaches, 1)Free gingival grafts, 2)Sub-epithelial connective tissue grafts and 3)Guided tissue regeneration. Free gingival grafts is the oldest and most common graft. It is when a piece of the palatal tissue (skin from the roof of the mouth) is cut away and stitched into place over the recessed area. It works well, but the two main problems are 1)It usually heals looking like a scar, lighter in color and the texture is often not matched to the surrounding tissue, and 2)the roof of the mouth hurts like a pizza burn post operatively. The Sub-epithelial Connective Tissue graft it similar to the free gingival graft but instead of the surface cells (epithelium) being taken and transposed, the underlying cells are taken (connective tissue). This technique has much better color and texture healing and has a less painful healing of the roof of the mouth since the final wound is smaller. Guided tissue regeneration is the newest technique and the most costly. It is when a barrier membrane (usually Gore-Tex or resorbable membrane) is placed over the recession. The membrane blocks connective tissue cells from repopulating the area and allows bone cells to regrow into the area over the root. From a pure theory standpoint this technique is the most ideal since it is the only one which regrows lost bone. The others just attach gingiva to the root. From a clinical point of view, it is the most unpredictable and expensive. The most recent advance in periodontal surgery is the use of an operating microscope. While microscopes have been used in medical specialties for some time, their use in dentistry has been limited. Dr. Dennis Shanelec of Santa Barbara, CA, has pioneered the use of the microscope in periodontal surgery and his results are nothing short of amazing. With the use of the microscope smaller, more precise incisions can be made and sutures too small to place with the naked eye can be used for closure. Postoperative pain is minimized and healing takes place much more rapidly.
In my practice I mainly use the microscope assisted Sub-Epithelial Connective Tissue approach since it is predictable, esthetic and affordable, although once in a while I will regenerate lost bone using a membrane procedure if the bone loss in more than minor.
In order to replace lost gum height a procedure similar to sub-epithelial connective tissue grafting is used, except instead of placing the graft over a root, it is placed onto or into the defect area. Sometimes, depending upon the extent of the defect, the procedure needs to be repeated.
Microabrasion
Microabrasion Examples 〉
Sometimes teeth have either brown or white stains which are not amenable to bleaching alone. These stains are usually caused by a decalcification process of some sort (white stains) or by a defect created during tooth formation, such as fluorosis (too much fluoride intake during tooth development). Fluorosis can create severe brown stains which are within the enamel layer of a tooth. Many times these types of stains lighten significantly with bleaching, but are not eliminated without further treatment. There are four treatments to remove these stains. Microabrasion, bonding, porcelain laminates and crowns. The last three options are described in their sections on this website.
Microabrasion is a technique developed by Dr. Theodore Croll in Doylestown, PA. It utilizes a mixture of hydrochloric acid and pumice (an abrasive) which is rubbed onto the surface of the tooth repetitively until the outer layers of the enamel containing the stains are abraded away. If the stains are in the outer layers of enamel they can be successfully removed, leaving a smooth, glassy enamel surface as the finished result. This surface has been demonstrated to be more caries resistant than the original surface.
The teeth must be first isolated with a rubber dam to protect the gums from coming into contact with the acid. The pumice-acid slurry is then applied to the tooth or teeth and rubbed either manually or with a very slow speed rubber cup. After a few layers of enamel are removed, the slurry is rinsed with water and the result is evaluated. This process is repeated until the stain is gone or the process must be stopped for other reasons (enamel getting too thin or tooth getting sensitive). After the process is complete, the teeth are usually bathed in a fluoride gel in order to reduce post-operative sensitivity and the rubber dam is removed. The entire process takes less than an hour and is permanent. This is a wonderful technique to remove these types of stains, whether used alone or in combination with bleaching or bonding, it gives dramatic results.
As you will see in the following cases, I have treated cases as extreme as severe fluorosis and as simple as a small white line after braces have been removed.
Porcelain Restoration
Laminates 〉
Porcelain Inlays 〉
Porcelain Laminates or Veneers are an extension of the Bonding. It consists of applying a preformed thin veneer of porcelain to the tooth using a chemical agent which chemically and micromechanically adheres (bonds) the porcelain to the tooth. The bonding materials used are the same as in composite resin bonding.
The differences between porcelain veneering and composite resin veneering are:
1. Porcelain gives a more durable and aesthetic final result.
2. Porcelain requires at least two visits while composite resins are applied in one visit.
3. Porcelain laminates frequently are used instead of crowns (capping) when there is enough good tooth remaining to support them. They require much less tooth reduction than crowns.
When used properly, porcelain laminates can produce incredible results while providing a relatively conservative approach. Porcelain laminates can create illusions of color, form, and position easily.
When special porcelains called "luminaries" are applied within them, they can brighten dark teeth without creating an opaqueness. Luminaries are porcelains which produce visible light when they absorb ultraviolet light. They almost create an illusion of a flashlight inside the tooth. When trying to mask out a dark stain like tetracycline or root canal treated teeth, they are an ideal solution.
Laminates can create the illusion of straight teeth without orthodontics for the patient who does not want to be in braces. They can also change the color of teeth when other techniques fail.
Tooth Replacement
Adhesive Bridges 〉
Porcelain to Metal Bridges 〉
Implants 〉
Teeth are lost for various reasons, cavities, periodontal disease, trauma, nerve infection to name the most common. In the past it was commonplace for teeth to be extracted (removed). As dental science has advanced, the ability to save teeth has become the norm. In most cases teeth which previously would have been lost can now be saved. The main reasons people still lose teeth today are 1) Lack of Knowledge, 2) Lack of Financial Ability, 3) Lack of Care, 4) Trauma or 5) Cracked Roots.
When teeth are lost a chain of events are put into place which without correction can lead to further loss of teeth and function. Other teeth can shift into the created spaces and chewing forces may shift to other teeth. This can subsequently cause the front teeth to flare out creating unwanted spaces. An altered bite can also cause the facial features to collapse. The more teeth that are lost and not replaced, the greater the odds that wrinkles and lines will form, causing premature aging.
Missing teeth can be replaced with either fixed (not removable) or removable replacements (prostheses). Non-removable or fixed prostheses are usually preferable since they are more similar in function and esthetics than removable prostheses. Fixed bridges have traditionally been made of porcelain fused to a gold alloy and they are still the "Gold Standard". Newer bridges are now available which are made of composite resins with fiberglass substructures, high strength ceramics and hybrid materials. Each of these materials has a time and place and if used selectively can have wonderful results. The main problem with non-metal fixed bridges has been their fracture resistance is poor compared to porcelain fused to metal.
Conventional fixed bridges require that teeth on either side of the missing tooth/teeth are prepared for crowns. The bridge is nothing more than multiple crowns connected together and cemented to the prepared teeth (called abutments). The replaced tooth is called the pontic. Another type of fixed bridge does not rely upon the abutments prepared for crowns for retention, but rather relies upon bonding materials for retention. These are called adhesive bridges or "Maryland Bridges" Originally Maryland bridges were porcelain fused to metal prostheses which were bonded to the backs of the adjacent teeth after minor tooth preparation was completed. While this type of bridge is still common, a non-metalic adhesive bridge has been developed call an "Encore Bridge", which is composed of a fiberglass/composite resin backing which is bonded to the adjacent teeth and a porcelain laminate which is then bonded to the front of the pontic tooth. There are also versions of this which are all processed composite, without the porcelain laminate. This technique has a high success rate in front teeth, but fails more easily in back teeth where the chewing forces increase dramatically.
Another option for replacing missing teeth is Implants. For years physicians have been using implants to replace missing body parts such as hips and shoulders. Today, dentists can use the same techology to replace missing teeth. Dental implants have become a predictable, esthetic alternative to fixed or removable bridgework.
What is an Implant? An implant is an artificial root replacement, usually made from a titanium alloy, which is surgically placed into the bone. During the healing phase, usually 4-6 months, the bone fuses to the implant. Once the implant is fused (osseointegrated), the implant is surgically exposed and a healing cap is placed. Once the gums have healed around this healing cap, a crown, bridge or other device for replacing a tooth/teeth is fabricated. Implant retained teeth can look, feel and function just like the original tooth/teeth they replace. Your doctor can advise you on the possibility of having implants in your situation.